Please click on any photo for more information
Anyone who has hiked the wrong path into the woods can appreciate the importance of making the best of a bad situation. In this easy-to-use guide, USAF instructor Greg Davenport explains, in clearly written text and detailed diagrams, the most efficient ways to ensure personal safety in the wild. Creating shelter and heat, procuring food and water, and navigating unfamiliar territory are just a few of the survival basics Davenport covers. 100 drawings. 15 photos.
"Unique among survival books...stunning...enthralling. Deep Survival makes compelling, and chilling, reading."—Penelope Purdy, Denver Post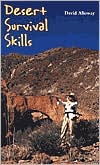 Remote desert locations, including the Chihuahuan Desert of northern Mexico, southern Texas, New Mexico, and Arizona, draw adventurers of all kinds, from the highly skilled and well prepared to urban cowboys who couldn't lead themselves (much less a horse!) to water. David Alloway's goal in this book is to help all of them survive when circumstances beyond their control strand them in the desert environment. In simple, friendly language, enlivened with humor and stories from his own extensive experience, Alloway here offers a practical, comprehensive handbook for both short-term and long-term survival in the Chihuahuan and other North American deserts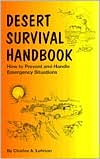 Essential for desert travelers. Information on preparation, handling accidents, surviving on desert plants, and much more.
Discover the joys of desert camping, hiking, and travel Harsh, yet hauntingly beautiful; arid, yet teeming with life; inhospitable, yet profoundly peaceful the earth's deserts beckon the poet and the backpacker, the artist and the adventurer. If you're heading into the desert, however, you should know what to expect, what to look for, and how to withstand extreme desert conditions. Richly illustrated with photographs and drawings, The Ultimate Desert Handbook is your complete guide to hiking, exploration, and survival in fascinating but unforgiving desert terrain. It gives you the crucial information you need to make the most of any desert sojourn, including detailed descriptions of North American deserts, their plants and wildlife, and their distinctive geological features. You'll also find the most comprehensive tutorial on desert navigation ever published and expert advice on equipment, safety, and first-aid techniques. You'll learn how to Select the perfect desert campsite Manage your water supply Share the landscape with desert wildlife Maintain vehicles in desert conditions Protect yourself with the right clothing and equipment Be at home in a vast and elemental terrain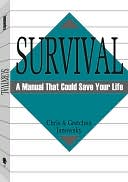 Life-saving first-aid and wilderness medical care, water procurement, improvised survival tools and weapons - having this book in any emergency could mean the difference between life and death. This is one of the best guides we've ever seen.
Classic instructions for roughing it, camping, hiking, firemaking, cookout, shelters, miscellaneous wood lore.